Lisa McGee's "Derry Girls" got a shoutout in the latest episode of The Simpsons.
In the episode, Homer takes Santa's Little Helper to an ice cream parlour in Springfield called "Dairy Girls Ice Cream", which caught the eyes of fans.
Producer Matt Selman tweeted to confirm the name was in reference to the hit Channel 4 show, writing "it's the least we could do".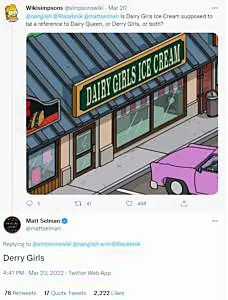 The latest trailer for Derry Girls is out now!