Irish actor Robert Sheehan has opened up about how he questioned his sexuality in a wide-ranging interview with Hot Press magazine.
The Portlaoise actor rose to fame after starring roles in the E4 comedy Misfits and Irish drama Love/Hate.
In a personal interview, Sheehan spoke to Hot Press about his attitude to love, sex and sexuality.
"I think it would be irresponsible not to question my sexuality," Sheehan said speaking to Jason O'Toole.
[quote]I had a couple of experiences when I was younger with dudes where I tried it, experimented, to see if it did anything for me. And it didn't.[/quote]
Sheehan also revealed that he is no longer in a relationship with Kingsman actor Sofia Boutella.
He said while they were no longer together, they were still friends.
"We still love each other a lot. We still acknowledge that, you know."
The 30-year-old also speaks candidly about how he has no more interest in one-night stands and about sleeping with fans.
Sheehan portrayed gang member Darren in Love/Hate and played opposite fellow Irish star Ruth Negga.
The actor addresses playing opposite Negga and discusses having to portray sex scenes.
"Luckily, we were very comfortable with one another, says Sheehan.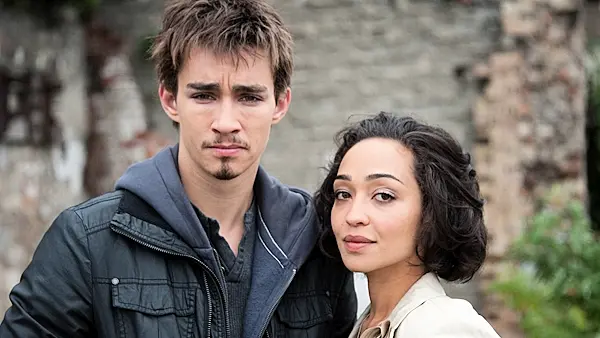 Robert Sheehan and Ruth Negga in Love/Hate
"And she is, of course, a beautiful, beautiful young woman – so there may have been the occasional erection that popped up there!"
Sheehan also reflects on the MeToo movement, stating that "it makes you self-examine and it makes you ask yourself, 'Am I being compassionate enough to women about their position in society, challenges they have to face?'
"I think in that regard it's been very helpful. There's been a lot of healthy compassion encouraged out of men towards women's position."
In the jam-packed new issue of Hot Press: @wearevillagers on their masterpiece new album, @MichaelDHiggins and @metro_festival. @thewhitmore in conversation with @glamourmag Editor @samanthabarry. @RobMSheehan in the Hot Press Interview

& much more: https://t.co/r7wOwjxup2 pic.twitter.com/etsouSLWOs

— Hot Press (@hotpress) October 10, 2018
Sheehan also expressed an opinion that drugs should be legalised.
Speaking about his own experience with drugs, he said: "I think the old delicious cannabis was definitely my favourite. I keep it to a very occasional dabble now.
"What I like about weed is that it isn't a depressant at all, whereas alcohol is. You take a load of depressants when you go out drinking; whereas weed doesn't take anything away from your ability to naturally be happy."
The full interview can be read in the new Hot Press which is in stores from Thursday, October 11.
- Digital Desk