Love Island's Jacques O'Neill has issued an apology following claims he bullied a fellow islander on this year's show.
The 24-year-old was called out by bombshell Remi Lambert on Instagram following an Instagram Live where Jacques and villa pal Luca Bish appeared to be mocking the islanders rapping skills.
Remi posted on Instagram earlier this week saying that this behavior from the two UK lads was not the height of what really happened in the villa.
Lambert says that viewers of the show only see "3 to 5 10 second clips" of what happens in a 24 hour period on the ITV2 reality show, "so you could never tell what was truly happening".
"Jacques said bad things about my appearance and the way I speak, whilst Luca was encouraging it. After about 3 strikes from Jacques I told him I won't be speaking to him anymore in the villa"
He ended the post saying that he "wants justice".
View this post on Instagram
Today, rugby player Jacques has issued his own statement apologising for his actions.
Posting on his social media, he says he has started therapy and that he is taking a step in the right direction:
"I just want to acknowledge the situation that's happening right now and apologise if my behaviour has caused offence or been misinterpreted over the last few weeks.
I genuinely have no bad feelings towards anyone and I've not meant for anything to come across that way at all. It was not my intention and I'm genuinely sorry if it has.
Life has been very overwhelming recently and admittedly I've probably not handled myself in the best possible way.
I take full responsibility for my actions. I'm aware I'm far from perfect and that there is work that needs to be done on myself.
I had my first therapy session on Monday which really took me out of my comfort zone, I know I have needed this for years but it's only now I have decided to get help.
I know it's a step in the right direction for me even after just one session. I'm not asking for sympathy, I just want to acknowledge the situation and move forward as positively as I can.
However, I know this can be used as an important lesson for me moving forward and over the coming years. I hope I can become the person I want to be and use this new platform to spread a positive message. I'm sorry to anyone that I have let down."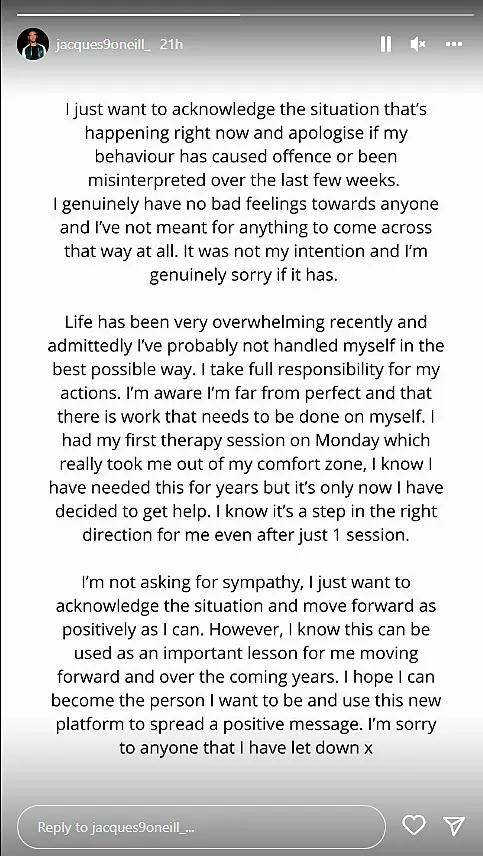 The rugby player, who was one the first bombshells in the villa, left the show during an episode that aired on July 12th, with ITV releasing a statement before the episode aired saying they support Jacques' decision.
Jacques, who was coupled up with Paige at the time, explained he left the villa for his own benefit, as he wasn't feeling himself and wanted to sort out his "head" before continuing any romantic relationship.