Have you ever wanted a good excuse to have to avoid cooking? Well, thanks to Deliveroo your prayers have been answered.
This weekend Deliveroo is offering free delivery across all restaurants this Friday and Saturday.
Every restaurant on Deliveroo in Ireland will be taking part in this special free delivery deal across Dublin, Cork, Galway, Limerick and Belfast over the two days - just as the football begins to get exciting.
The delivery service recently combined forces with Eddie Rockets for a Trump-inspired selection of burgers to mark Independence Day.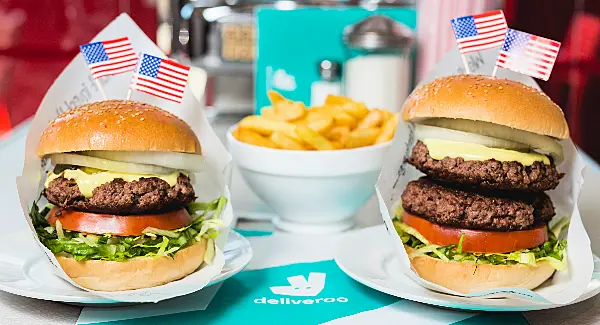 Trump-inspired burger courtesy of Eddie Rockets.
Liam Cox, General Manager of Deliveroo Ireland says; "We're thrilled to be able to give our loyal customers the opportunity to take advantage of our free delivery offer."
Hoping that people will be more adventurous when eating out Cox's added, " I'm hoping this will encourage more people to want to try out some of their favourite local delicacies, so there's no reason not to indulge!"
This is the excuse you've been waiting to hear so you can treat yourself this weekend.
Enjoy!