Hello, Emma here again!
So, over the past couple of weeks, Kolyn and I have been sharing our experience with different treatments at Genesis Clinic, Waterford with you. I am in the middle of laser hair removal treatment- you can catch up with that blog here and check out the video here. Kolyn, Beat's Head of Digital Content, is undergoing Collagen Pin treatment at the moment, which helps reduce the appearance of stretch marks, which can be common for men. It's well worth checking out his blog and video if it's something you think you'd be interested in too!
But, these aren't the only treatments we received; Tracy was sure to showcase lots of their treatments while we spent time there. Although I have always taken pride in my teeth and am slightly obsessed with brushing them, I am unfortunately a smoker and have wanted to get my teeth whitened for ages. We decided on the professional non-peroxide teeth whitening offered at the clinic. You can expect your teeth to appear 4-10 shades whiter, depending on age, thickness of enamel, mineral content with the dentine and severity of staining.
The procedure was quick and painless; the gel is applied to the teeth and is exposed to the laser light for 20 minutes; I wore protective eye-wear for the duration and a plastic detractor was placed in my mouth to keep it open, as you can see in below video. The results were instant and very impressive- I'm delighted!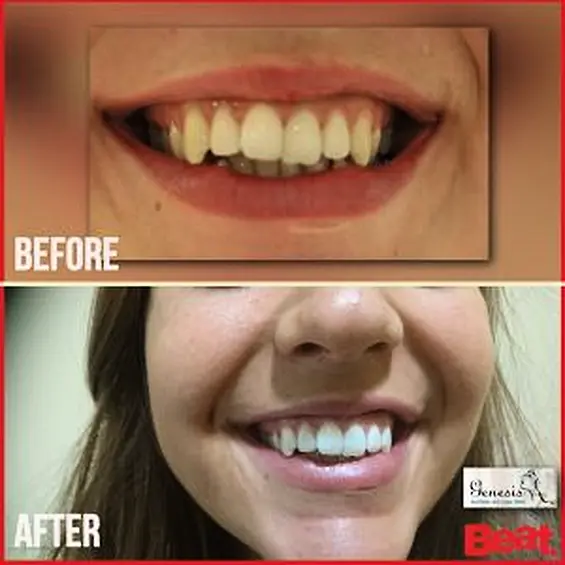 Next up, I decided to try out Microdermobrasian. I learned that this treatment works on all skin types and colours. This skin-care procedure came from Hollywood, but isn't invasive like Botox, etc. Basically, the treatment includes tiny rough grains that buff away the surface layer of the skin. Tracy explained that your skin is made up of two layers; the epidermis and the dermis. She also explained that the topmost layer is called the stratum corneum. This acts as a barrier to the outside world and the lower skin layers. Tracy explained that when you use moisturisers, you're not guaranteed that then moisture will pass down through the layers. The top layer is home to fine lines and wrinkles, which Microdermobrasian aims to combat. I found this treatment really relaxing; it wasn't too invasive, it felt like an in-depth exfoliator. A specialized device is used. All clogged pours are cleared and you're left feeling fresh faced and squeaky clean! You will also find that any fine lines and wrinkles, (I have some around my eyes), will appear much finer. Tracy also warned me that some spots may appear in the days following the treatment; these are spots that are buried beneath the top layers of skin & as that has now been removed the spots will appear quicker. Check out more about Microdermabrasion in below video.
Finally, I also tried out the Venus Freeze treatment offered at the clinic. The treatment has been dubbed as 'revolutionary' in recent times and is known for it's effectiveness in circumference and skin tightening. It's said to be popular for celebrities who want to avoid injections. This treatment is also non-invasive. We had chatted about trying out the treatment over the course of my laser visits and I was intrigued. We decided to work on my chin and neck area with the aim to secure more definition. Tracy that explained that to ensure optimal results, you should perform cardiovascular/ cardio following treatment.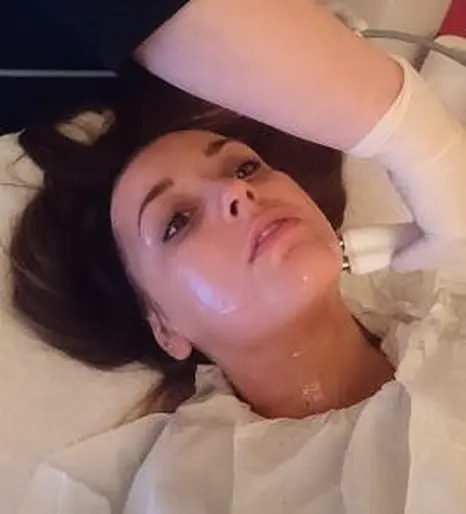 So, how does it work? Well, multi-power radio frequency heats up the tissue and stimulates the cells and the magnetic field directs the energy correctly, so the energy goes exactly where it needs to go. This ensures the experience is painless; I actually found it very soothing and relaxing and could barely keep my eyes open as I found myself drifting off! Venus Freeze can be used to contour the body too... I only had one treatment to try it out and you'd advised to have more than that to ensure lasting results, but I did immediately notice that my face looked much more contoured for some time.
Make sure to check out below video of all of these treatments to get a feel for how they work!
Find out more about Genesis Clinic here