Archaeologists have unearthed what they have called "a significant passage tomb cemetery" in County Meath.
The Megalithic site beside Dowth Hall, excavated by agri-technology company Devenish and UCD School of Archaeology, dates back some 5,500 years and is within the Brú na Bóinne World Heritage Site.
The scientists who found the two burial chambers within the western part of the main passage tomb have described it as "the find of a lifetime".
A large stone cairn was raised over the tomb and six kerbstones that have been identified so far would have formed part of a ring of stones that followed the cairn perimeter.
One kerbstone is heavily decorated with Neolithic carvings and represents one of the most impressive discoveries of megalithic art in Ireland for decades. They also discovered another two possible satellite tombs.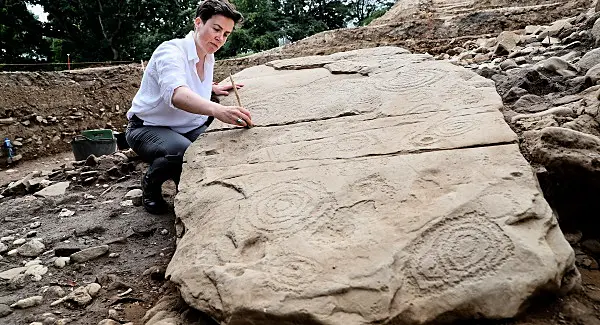 Dr Clíodhna Ní Lionáin, Devenish's lead archaeologist for the project said: "For the archaeologists involved in this discovery, it is truly the find of a lifetime."
Dr Steve Davis of the UCD School of Archaeology said: "This is the most significant megalithic find in Ireland in the last 50 years, since the excavation of Knowth. The spate of archaeological discoveries in Brú na Bóinne in recent weeks highlights what a globally significant place this is".
Owen Brennan, Executive Chairman of Devenish, said: "Devenish invested in this farm at Dowth because of its fertile soil, its location beside the Boyne and its beautiful landscape.
"From our archaeological research, it seems we made the same decision for the same reasons as a long line of our farming colleagues from the Neolithic, the Bronze Age, medieval and more recent times."
"The monuments here, created by some of Ireland's first farmers, capture our imaginations and those of our visitors to the Devenish Lands of Dowth."
"It is hugely valuable, and indeed core to our company's science-based ethos, that we preserve and protect this major heritage site for future generations. We also take this opportunity to invite people to tour the megalithic finds of this excavation during Heritage Week in August."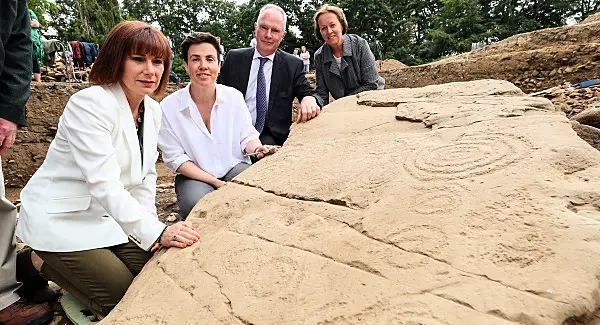 There are six distinct heritage landscapes on the Devenish Lands at Dowth dating from 5,500 years ago – Middle Neolithic passage tombs, a Late Neolithic henge and associated structures, a Bronze Age enclosure, at least two high-status Early Medieval enclosures, Late Medieval settlements and the demesne landscape created around Dowth Hall in the 1700s.
They said that the layering of this number of heritage landscapes in the same location is "very rare".