In the UK, the Queen has become the first British Monarch to celebrate a Platinum Jubilee after 70 years of service.
The achievement was commemorated world wide over the weekend while people who live in the United Kingdom were treated to a double bank holiday weekend to join in honouring the landmark occasion.
Among the events to praise the service of the Queen, performers took to the stage on Saturday night outside Buckingham palace.
Acts such as Diana Ross, George Ezra, Queen and Elbow played live to 1,000's of spectators.
The star studded night was also broadcast live on BBC with millions tuning in at home.
During the night, the Irish flag was shown during a montage displayed on the back of the stage.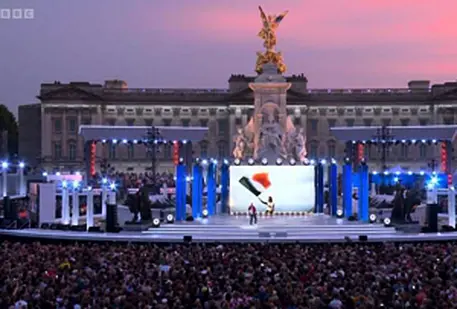 Photo: BBC
A BBC spokesperson said: "The incorrect flag appeared in a brief montage during Doc Brown's appearance last night.
"We apologise for the error, and the sequence will be edited on iPlayer."