The 5th annual Donal O'Connor Memorial Cycle was launched in the South East this morning.
The 10km cycle from Waterford City to Tramore aims to raise awareness of suicide prevention.
All proceeds from the event will go to Waterford Marine Search and Rescue.
Organiser Mags O Connor told Beat News she's been delighted with the success of the cycle to date:
"People have really embraced it. Our numbers have grown year-on-year and we have people who come back every year."
"One of the things that warms the heart is we have babies who were in trollies on the back of their parents bikes in the first year, and then last year they were on their own little toddler bikes."
"It's a really positive event. It's fun, it's for all the family and it's about bringing people together, so we would encourage people to get involved."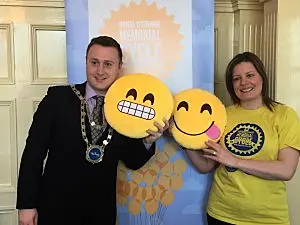 Now in its 5th year, the organisers have added a family fun day in Tramore GAA club as well as an Emoji initiative for primary school children.
Mags added the 'Emoji for Help and Hope' initiative is a great way for kids to be made aware of issues surrounding mental health:
"I try to understand messages from my nieces and I haven't a notion what they're saying to me because kids talk in emojis."
"An emoji communicates an emotion and a picture paints a thousand words, as they say."
"There isn't an emoji that says 'hope' or 'help' so we thought it would be something kids would enjoy to be able to recreate that message so that it resonates with kids"