A family in the South East are distraught following the theft of a precious GAA medal during a robbery at their home.
Siún de Paor's father won the medal when he played for the winning team in the All-Ireland hurling final in 1948.
Daithí de Paor, or Davy Power, has since sadly passed away.
Daithí, whose family originate from Waterford, had the medal taken during a burglary at a family member's house in Enniscorthy, Co. Wexford last week.
The incident happened between the hours of 4 pm. and 6.30 pm on Friday 25th of November in Glenbrien.
According to WLR News, Daithí died in 1986 and it was such a special memento to his loved ones, that their mother used to wear it on a chain.
Daithí's daughter, Siún de Paor said "It was in its own box, I have it on a chain because I wear the medal for all the big Waterford occasions.
"I would wear it going to matches and I would wear it in memory of my father because of his love of the GAA.
"And my mother used to wear it on the chain as well."
"We lost our father. This was something that was so important to him."
The family are pleading with members of the public or anyone with further information on the burglary or the whereabouts of the medal to come forward.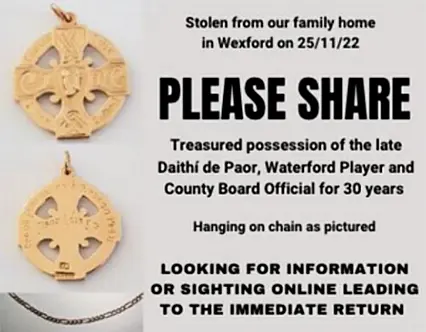 "Like, you cannot replace this medal," Siún continued.
"It's a family heirloom that we need to keep in the family to pass down through the generations.
"There are other generations coming along now and they are so proud of what their grandfather achieved.
"We want to keep this within this family. We are a huge GAA family - all the de Paors are.
"We lost our father. This is something that was so important to him and we are the custodians of it."
If you have any information on the whereabouts of this All-Ireland medal, Siún can be contacted on 085 2852968.