After a search, involving a publically nominated shortlist and a rigorous judging process, pubs across the country picked up gongs for being top of their game, with Dublin, Galway, Meath, and Limerick represented, and Toners Pub on Baggott Street in Dublin coming away with the Irish Pub of the Year award.
In the Global category, there was cause for celebration for Pat Dempsey of Slattery's Pub in Beggar's Bush, Dublin, who picked up the overall Best Bar Person honour, while Hyde Bar in Galway was awarded the nod for overall Best Marketing Campaign.
Further afield, there were wins for Irish pubs in all corners of the globe, from Washington to Wellington, Beijing to Brisbane.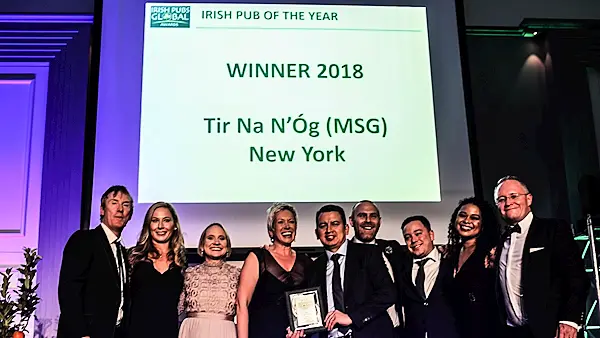 Overall winner on the night was Tír na nóg, Madison Square Garden, which was awarded the Global Irish Pub of the Year.
Irish Pubs Global CEO, Colm O'Reilly, said: "First of all, we have to commend the public on their great taste, as the calibre of this year's shortlist was phenomenal.
"It was a difficult process to decide the ultimate winners in each category, and we're sure people will have their own opinions, but that's the beauty of the Irish pub; we all have our favourites for our own unique reasons."
Here are the winners in each category:
Ireland
Best Irish Whiskey Experience - The Dingle Whiskey Bar, Dublin
Best Cocktail Experience - The Central, Navan
Best Sports Experience - An Pucan, Galway
Best Food Experience - The Laurels, Perrystown
Best Community Pub - John Kavanagh - The Gravediggers, Dublin
Best Chef - Helen Ahern - The Moorings, Dungarvan
Best Bar Person - Pat Dempsey - Slattery's, Dublin
Best Marketing Campaign - Hyde Bar, Galway
Best Entertainment Experience - Dolans, Limerick
Irish Pub of Year - Toners, Dublin
North America
Best Irish Whiskey Experience - The Celt, Mc Kinney, Texas
Best Cocktail Experience - Rí Rá, Washington DC
Best Sports Experience - The Celtic Cowboy, Great Falls, Montana
Best Food Experience - Egan & Sons, Montclair, New Jersey
Best Community Pub - Paddy Barry's, Tysons Corner, Virginia
Best Chef - Vincent Francoual - The Liffey, St Paul, Minnesota
Best Bar Person - Lisa Walsh - Tim Finnegan's, Delray Beach, Florida
Best Marketing Campaign - Hennessy's, Merida, Mexico
Best Entertainment Experience - The Irish Times, Victoria, Canada
Irish Pub of Year - Tir Na N'Óg, New York City
Europe
Best Irish Whiskey Experience - The Scholars Lounge, Rome
Best Cocktail Experience - WB Yeats, London
Best Sports Experience - O'Casey's, Den Haag, Netherlands
Best Food Experience - The Cheeky Pup, Almancil, Portugal
Best Community Pub - Irish Pub at the Fleetenkieker, Hamburg, Germany
Best Chef - Paul Mackey - O'Shea's, Manchester
Best Bar Person - Ruby Butcher - The Star Inn, Bristol
Best Marketing Campaign - Harat's, Sankt-Petersburg, Russia
Best Entertainment Experience - Dropkick Murphy's, Edinburgh
Irish Pub of Year - Waxy O'Connor's, London
Asia, Africa, Middle East & Pacific
Best Irish Whiskey Experience - Scruffy Murphy's, Bangkok
Best Cocktail Experience - The Irish Embassy, Koh Lanta, Thailand
Best Sports Experience - McGettigan's, Singapore
Best Food Experience - Murphy's, Mandurah, Australia
Best Community Pub - Paddy O'Shea's, Beijing
Best Chef - Anthony Francis - McGettigan's, Dubai
Best Bar Person - Vanessa Evans - Seumus' Irish Bar, Picton, New Zealand
Best Marketing Campaign - The D'Arcy Arms, Surfers Paradise, Australia
Best Entertainment Experience - Finn McCool's, Brisbane, Australia
Irish Pub of Year - The Irish Village, Dubai
Global
Best Irish Whiskey Experience - The Scholars Lounge, Rome
Best Cocktail Experience - Rí Rá, Washington DC
Best Sports Experience - McGettigan's, Singapore
Best Food Experience - Egan & Sons, Montclair, New Jersey
Best Community Pub - Paddy O'Shea's, Beijing
Best Chef - The Liffey, St Paul, Minnesota
Best Bar Person - Pat Dempsey – Slatterys, Dublin
Best Marketing Campaign - Hyde Bar, Galway
Best Entertainment Experience - Dropkick Murphy's, Edinburgh
Irish Pub of Year - Tir Na N'Óg, New York City