Cork mother-of-nine Keely Jones is currently living on a beach in Youghal with her family after being unable to find accommodation.
Ms Jones and her children are living in tents and sleeping on travel cots and air mattresses having set up on the beach last week.
Her children are aged 17, 16, 13, ten, eight, four, three, one year old and six-months-old.
Ms Jones has been looking for a new home since November of last year.
After making complaints to her landlord about some issues with the property including mould, the landlord made the decision to refurbish the house.
They had been living in the house for five years and were given notice to leave as the work would be extensive and it would not be possible to work around them.
Ms Jones said that her family were given adequate notice by the landlord but they were unable to find somewhere to live before the time came to move out.
Last week, the Jones family arrived at a hotel that they have stayed in a number of times previously and found there was a mistake with the booking.
It was 7pm and too late to try and find another hotel to accommodate all of them. It was at this point, that Ms Jones decided to buy tents and set them up at the beach.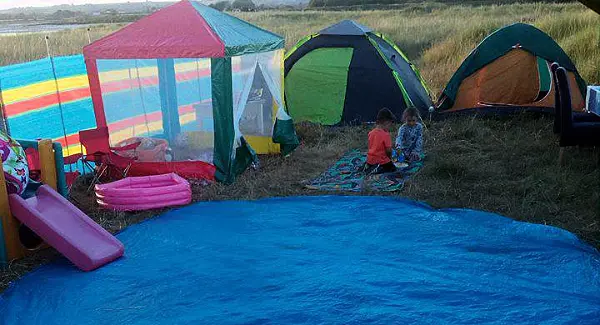 Of living on the beach, she says that at the moment the children are "having a ball" but if the weather should turn then it would quickly become a different story.
"If I don't stay positive about this I might have a meltdown," Ms Jones said, speaking to her local radio station.
"I try and keep a brave face on and then when I need to go to the doctor, if I feel I am under pressure then I go in and speak to the doctor. We have a great relationship."
Ms Jones said that she is currently on medication for mental health difficulties and has been with a psychiatric hospital previously.
"The one thing that I feel bad about is that I can't put a roof over their [the children's] heads. I feel very guilty that I can't."
Her partner - with whom she has three children - has four children of his own and while they tried to all live in the same house, they found it too difficult with 13 children under one roof.
Ms Jones' mother is living in a one-bedroom residence while her sister is currently in a council house with her five children.
She attended the Homeless Unit and said that staff members there tried their best to help them to find accommodation.
"We were put into hotel accommodation but when there's so many of us, I'm having to book hotels that have got adjoining rooms so that I can keep an eye. I've got four children that are four and under, the baby is only six months."
"So we're having a lot of trouble getting local accommodation. Six of my children are in school locally, all of my family and friends. My whole life is in Youghal.
"I have a very close relationship with my doctor as well. I have mental health issues and I need to be able to link in so I'm trying to stay local for that."
Ms Jones' youngest child was born in December, as she was about to lose her home, and she says this put a lot of pressure on her family.
They have been moving hotels and now that it is the height of the summer tourist season, she says that they cannot guarantee a booking for longer than a week.
As she requires so many rooms, Ms Jones says the bill for a hotel for a week can often come to €3,000 and some hotels have asked for deposits of around €1,000 which she is unable to provide.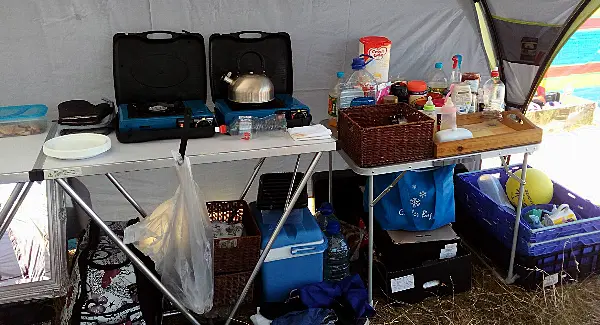 "A couple of times we were turning up to hotels and there were mistakes with the booking.
"They have told me that they have adjoining rooms and when we got there 'Oh, sorry. We haven't actually got adjoining rooms. We will have to put you in this room and that room.'
"They can be on opposite sides of the hotel and I can't monitor my children from two sides of the hotel.
"Because of fire regulations, they can only put one travel cot into each room."
It is Ms Jones' responsibility to find and book accommodation.
Once it has been booked, proof of booking is brought to the Homeless Unit on Drinan Street in Cork and then they will put the amount into her Post Office account on the day she is due to check in.
Any prior booking fees are taken out of Ms Jones' account at the time of booking.
Following the stay, a receipt is given to Drinan Street to prove that the family stayed in the hotel.
Each time they need to move from a hotel, it takes three cars and can cost €120 in petrol and diesel.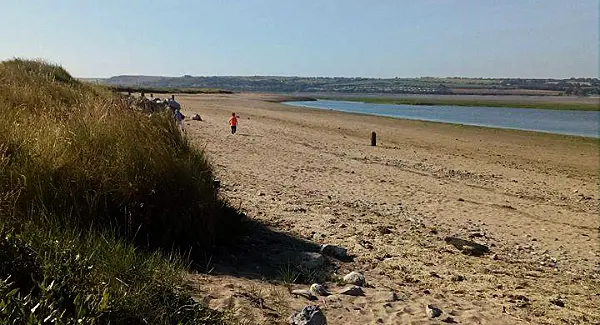 Ms Jones was told of potential accommodation in University College Cork which would be available on a rolling week-to-week basis but she says that it would be taking her too far away from her support system.
With family, her partner and her friends nearby she feels that she has help.
Some of them will take one or two of the children for a couple of nights, she can drop in to someone and get the clothes washed, she can dispose of nappy rubbish.
Ms Jones said that she would consider moving to the city if it were to move into a permanent residence and they could build a future there.
When it has been suggested to her that she should have stopped having children when she was struggling, Ms Jones says: "I have had a lot of trouble with contraception. Two of my children were conceived on the coil.
"I have been on a long list for a while to get my tubes tied which I can't actually get done now.
"I was done having babies a long time ago."
Digital Desk