Kenneth Fox
Thousands of people gathered in Limerick on Saturday morning for a rally to highlighting hospital overcrowding and delays at emergency department of University Hospital, Limerick (UHL)
As the Irish Examiner reports, protests are also taking place outside Cork University Hospital and University Hospital Kerry in Tralee as well at hospitals in Galway, Letterkenny, and other sites where patients have faced long delays this winter.
Members of Aoife Johnston's family were among the crowd today and the protest held a minute's silence in her memory in Arthur's Quay park.
Overall, 18 protests are taking place nationwide, including one at Wexford General Hospital.
Mike Daly, the organiser of the Limerick march, which was the first set for this date following the crisis at UHL in early January, had earlier called for a large turnout.
"We turned out in the thousands for Limerick hurlers, constantly turning up in the thousands for Munster Rugby, so ye got to turn up in the thousands for this march.
He said the protest is for "all who have passed away needlessly at UHL including my own Dad," he said.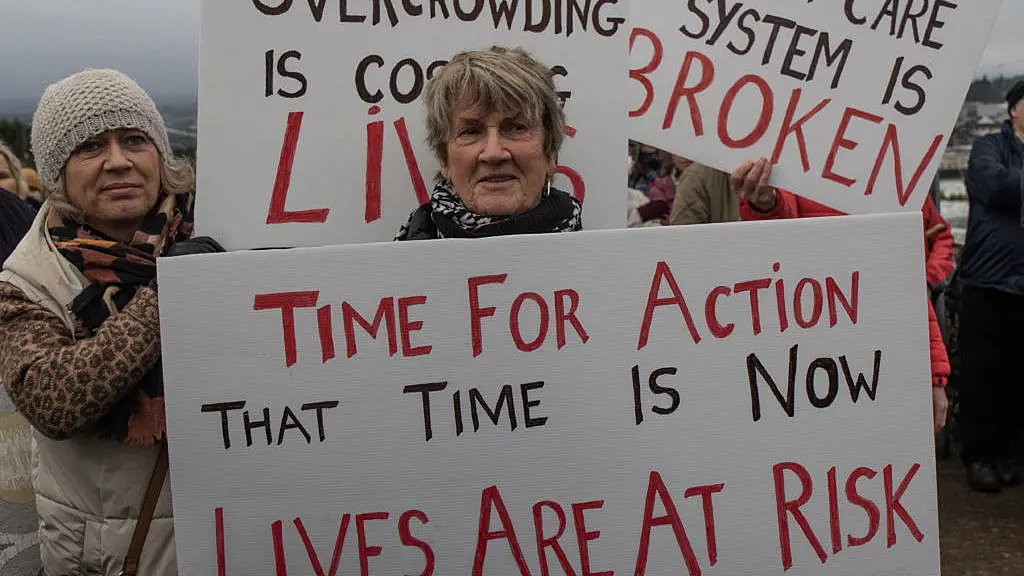 Trade union SIPTU is supporting this march, with SIPTU organiser Ger Kennedy to address the protest on behalf of their members working at University Hospital Limerick.
No politicians were invited, Mr Daly said. The protest began at 11am outside City Hall in Merchant's Quay.
In Cork, organisers were also expecting a large turnout, with people confirmed as travelling from as far as Bantry and Skibbereen to the protest site at the gates of CUH for 1pm.
Aontú representative for Cork North-Central, Finian Toomey, urged the public to "make a stand".
The party is supporting the marches, but he said: "We are asking all parties and none to join us, to protest against the lack of services, the lack of doctors, the lack of consultants and the debacle that the health service is in this country."
Aontú TD Peadar Tóibín is chair of the Navan hospital protest.
"One thing we can all be sure of is, one day we will need a ED [emergency department]," he said.