By Daragh Ó Conchúir
Cork's Mark Keane and Derry's Anton Tohill were on the training ground this week within hours of getting their Australian adventure underway, determined to pick up the skills that may someday establish them as AFL players with Collingwood.
The duo, signed by the Pies as Category B rookies at the recent AFL Draft Combine, arrived in Melbourne on Tuesday night and took part in a skills session the following morning.
The first-to-fourth year players aren't scheduled to return to training until November 19 but Keane and Tohill wanted to get a jump start according to Collingwood's head of academy, Tarkyn Lockyer.
"Their kicking, their handball and marking looks pretty sound at the moment, although just getting used to our ball is a challenge for them," Lockyer told AFL.com.au.
"We won't do a huge amount of the game education stuff in the next couple of days, but certainly in the next week we'll sit them down and let them watch some games.
"Then we'll let them come up with any questions they might have and we've also got to bed down where we see them playing, whether it's forward, back or midfield."
Tohill, a son of former Derry great Anthony, who himself spent time Down Under with Melbourne Demons but never played a senior game, is 6'5'', while Keane is just an inch smaller. The pair's kicking and athleticism really caught the eye of the Collingwood scouts and they are being earmarked as key position players, rather than the customary counter-attacking half-back role in which most GAA recruits find themselves deployed.
Lockyer said Keane had already shown he is well-suited to marking the high ball, which will come as no surprise to those that saw him operate so effectively as a target man for Cork U20s this year, while Tohill's competitiveness had been immediately apparent.
"Today we sat a couple of balls on Mark's head and his ability to jump and take the ball at the highest point was pretty impressive.
"The boys don't get a huge amount of contact in the Gaelic game so we'll have to teach them the rules about how you can use your body and your hands in marking contests.
"From a competitive point of view, both boys look like they're willing to have a crack so that doesn't look like that's going to be too much of an issue."
Lockyer said the next two weeks would be used to hone the players' skills and teach them the intricacies of the game before the rest of the players resume training. He will work alongside pathways coach, Craig Black to accelerate their learning.
"Once training starts it's going to be a really steep learning curve for them. We'll have to put extra time into these guys with their game development, understanding the vocabulary that we use and with their skill acquisition stuff as well."
While Keane and Tohill will undoubtedly become part of an enlarged WhatsApp group of Irish players at AFL clubs and receive plenty of important advice, Lockyer said American former college basketballer Mason Cox, who excelled as the Magpies reached the Grand Final this year, and former Australian pro basketballer Jack Madgen, who played four senior games in 2018 , would provide good examples at the club every day.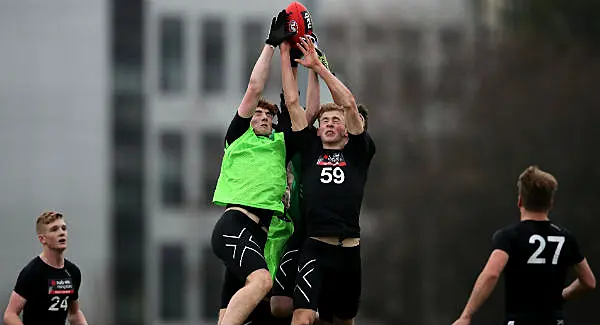 Mark Keane and Anton Tohill.
"One of the beauties we've got in working with Mason over the last few years is that he's given us a great blueprint about what the programme should look like. We've been quite successful with our Category B players in a short period of time but what both of those guys had was an unrelenting work ethic.
"I've sort of explained that to the boys already – the coaches are there to guide them and to help them, and push them, but it's going to be them that really run the programme. They're over here for a reason and while they're here they may as well make the most of it."