Leaders of the PGA Tour should be "ashamed of their hypocrisy and greed" in agreeing a deal with Saudi-backed LIV Golf, according to a group representing relatives of victims of 9/11.
After a turbulent year in the sport since the creation of the LIV Golf Tour, backed by Saudi Arabia's sovereign wealth fund, a surprise deal was announced on Tuesday to work with the PGA Tour and DP World Tour (the European tour) on commercial matters.
But with Saudi Arabia's Public Investment Fund (PIF) backing the new, joint venture, 9/11 Families United said it is "shocked and deeply offended" by the move which it says is "bankrolled by billions of sportswashing money".
A statement from the group said: "Saudi operatives played a role in the 9/11 terrorist attacks, and now it is bankrolling all of professional golf."
The group's chair Terry Strada, whose husband Tom died in the World Trade Centre's North Tower, said PGA Tour Commissioner Jay Monahan had "co-opted the 9/11 community" when the split between the tours happened.
She said: "Mr Monahan talked last summer about knowing people who lost loved ones on 9/11, then wondered aloud on national television whether LIV golfers ever had to apologise for being a member of the PGA Tour.
"They do now – as does he. PGA Tour leaders should be ashamed of their hypocrisy and greed.
"Our entire community has been betrayed by Commissioner Monahan and the PGA as it appears their concern for our loved ones was merely window dressing in their quest for money – it was never to honour the great game of golf."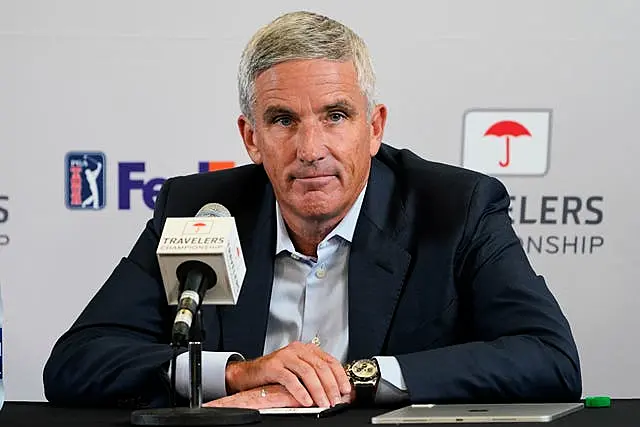 Mr Monahan said he realised people would call him a "hypocrite" after the announcement and that he "expected a lot of questions and criticisms".
Mrs Strada's comments follow criticism by Amnesty International which said the merger – which will see PIF governor Yasir Al Rumayyan chair the new board of governors and allow the fund exclusive rights to further investment and first refusal on any other capital – was drawing attention away from the country's human rights record.
Amnesty International UK's head of priority campaigns and individuals at risk Felix Jakens said: "While this may have taken some golf fans and commentators by surprise, it's really just more evidence of the onward march of Saudi sportswashing."
"It's been clear for some time that Saudi Arabia was prepared to use vast amounts of money to muscle its way into top-tier golf – just part of a wider effort to become a major sporting power and to try to distract attention from the country's atrocious human rights record."
A move that shook the sporting world
The sporting landscape has been changed with the confirmation of yesterday's merger.
The formation of "a new collectively owned" entity is set to transform the game of golf as we know it, closing the chapter on various lawsuits and banning orders from renegade players.
LIV golfers who were suspended indefinitely by the PGA and DP World Tour will be able to re-apply for membership from the end of the 2023 season.
The move has been painted as a partnership that 'represents the best opportunity to extend and increase the impact of golf for all', but has been met with immediate resistance.
Two of the most vocal supporters of the PGA Tour have been legendary golfers, Tiger Woods and Rory McIlroy, with the latter reportedly involved in an angry exchange at a meeting of PGA Tour players following the announcement.
As the coming days introduce further information, we plan for a new future of golf and wonder what harm the merger can also contribute in 2023.
Written By Rob Freeman, PA and Shaun Connolly, Beat
Keep up to date with all the latest sports news on our website beat102103.com.