Taylor Swift has released the re-recorded version of her third studio album Speak Now which includes half a dozen previously unheard tracks "from the vault".
The release marks the next stage of the US megastar's ambitious re-record of her entire back catalogue to regain control of her master recordings.
The remake of Speak Now includes six unheard songs which the 33-year-old said had filled her with "nostalgia and appreciation".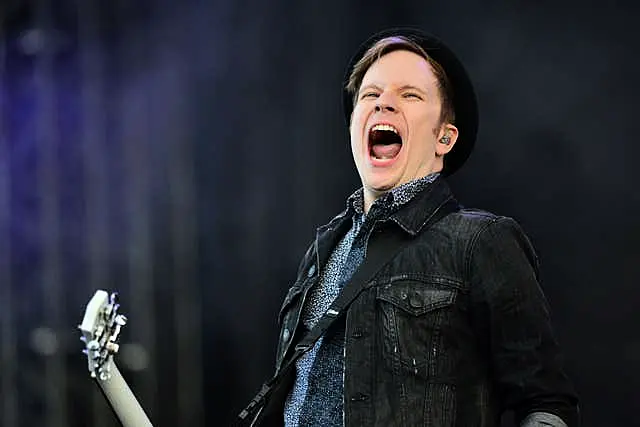 Electric Touch featuring Fall Out Boy serves as the first vault track, with Swift and lead singer Patrick Stump singing about their perspectives on the risks and rewards of new romantic possibilities.
Meanwhile, social media speculation has been growing about second vault track When Emma Falls In Love, suggesting the song could have been written about the love life of friend and Hollywood star Emma Stone.
Swift's grandmother Marjorie Finlay also makes an appearance in the new re-release with photos of her featuring throughout the video for the closing vault ballad titled Timeless, which focuses on her relationship with Taylor's grandfather.
The fourth vault track titled Castles Crumbling features Paramore singer Hayley Williams which marks their first collaboration, days after Swift announced that the rock band would be an opening act for several of her tour dates in 2024.
I Can See You and Foolish One also serve as vault tracks on the re-release.
The remake saw Swift change the lyrics in song Better Than Revenge that garnered controversy in the years since the original recording came out in 2010 as being unprogressive towards women's sexuality.
Original lyric "She's better known for the things that she does on the mattress" has been rewritten to "He was a moth to the flame, she was holding the matches".
Announcing the release on Twitter on Friday, Swift recalled "obsessing" over the tracklist for the album, which was first released in 2010 through Big Machine Records.
She said: "It's here. It's yours, it's mine, it's ours. It's an album I wrote alone about the whims, fantasies, heartaches, dramas and tragedies I lived out as a young woman between 18 and 20.
It's here. It's yours, it's mine, it's ours. It's an album I wrote alone about the whims, fantasies, heartaches, dramas and tragedies I lived out as a young woman between 18 and 20. I remember making tracklist after tracklist, obsessing over the right way to tell the story. I had… pic.twitter.com/I2cLH76EIH

— Taylor Swift (@taylorswift13) July 7, 2023
"I remember making tracklist after tracklist, obsessing over the right way to tell the story. I had to be ruthless with my choices, and I left behind some songs I am still unfailingly proud of now.
"For life, for you, for the fact that I get to reclaim my work. Thank you a million times, for the memories that break our fall. Speak Now (MY VERSION!) is out now."
Swift first embarked on the re-recording of her first six albums after the master recordings were acquired by the prominent talent manager Scooter Braun when he bought her former label, much to her fury.
The masters have since changed hands again after a deal with investment firm Shamrock Capital, but Swift has continued with a bid to regain ownership of the music by creating new versions of the songs.
Swift signed with Universal Music in 2018 in a deal believed to give her control of her master recordings.
She has already recorded new versions of her previous albums Fearless and Red.
She still has to release new versions of her 2006 self-titled debut album, 2014's 1989 and 2017's Reputation, although it is thought the work on 1989 has already been done.
The re-release of Speak Now will bring Swift's brief 2009 relationship with John Mayer back into the spotlight.
The pair reportedly started dating at the end of 2009, when she was 19 and he was 32, and ended in early 2010.
Speak Now features the track Dear John, with lyrics that blast an older partner who toyed with her emotions, with fans speculating the new "from the vault songs" will also reference Mayer.
Swift made a plea to her fans not to cyberbully her exes on her behalf prior to performing Dear John for the first time in 11 years at a show on her current Eras tour.
She told the audience: "I was hoping to ask you, that as we lead up to this album, I would love for that kindness and that gentleness to extend onto our internet activities.
"I'm 33 years old. I don't care about anything that happened to me when I was 19 except for songs I wrote and the memories that we made together.
"What I'm trying to tell you, is that I am not putting this album out so that you can go and should feel the need to defend me on the internet against someone you think I might have written a song about 14 million years ago. I do not care. We have all grown up. We're good."
Actor Jake Gyllenhaal, previously came under fire from so-called Swifties, following the re-release of All Too Well (Taylor's Version).
Swift is in the middle of her Eras tour, which will come to the Ireland and the UK in 2024.
On Thursday it was announced she was adding 14 more stops in the UK and Europe, including dates in London, Liverpool and Edinburgh, as well as three dates in Dublin – June 28th to 30th.
The US megastar was already due to play the Aviva Stadium in Dublin on June 28th and 29th, but has added a Sunday show.
There has been speculation online this may rule her out of appearing at the 2024 Glastonbury festival, which falls on these dates.
Swift was previously scheduled to perform at the festival in Somerset in 2020, but it was cancelled amid the coronavirus pandemic.
By Ellie Iorizzo and Mike Bedigan, PA Reporters
Keep up to date with all the latest news on our website Beat102103.com.