Almost 1,000 people have tried to beat a world record by throwing wellies into the air at the same time.
The effort took place just after noon on Wednesday as attendees at the National Ploughing Championships in Ratheniska, Co Laois were rounded up and shepherded into a nearby field.
Children stood at the front and clutched wellies as they waited for the required number to be gathered.
Independent adjudicators attended the bid, organised by a rural group representing young people, and the total number of people taking part – including Minister for Agriculture Charlie McConalogue – was 995.
The effort will be assessed by Guinness officials over the coming weeks to confirm a new world record.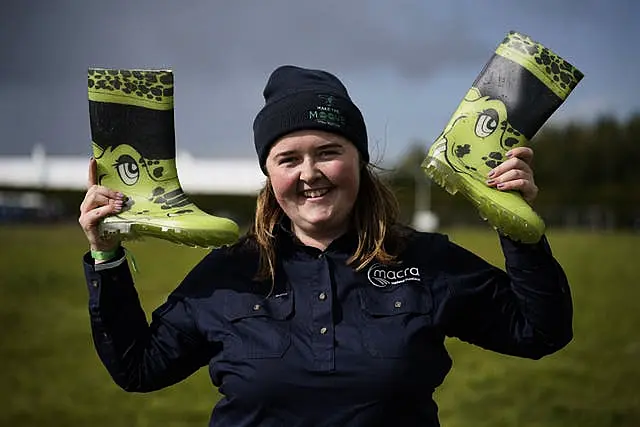 Elaine Houlihan, president of Macra na Feirme, thanked those who took part.
"As I always say, if you don't ask, you don't get, and the worst answer you can get is no.
"So when I came down I was a bit worried, I'm not going to lie. But I was confident. I needed to get the shoulder to the wheel to get people down here and I did."
She added: "I spent so many hours flicking through the Guinness world book of records as a young girl, sitting below in my kitchen or in the sitting room, but now I can flick through it and know we made history."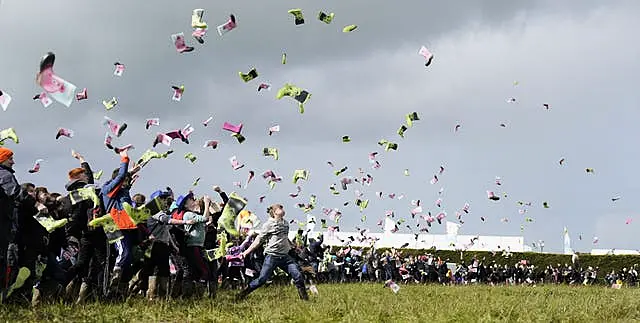 More than 66,000 people attended the Ploughing on the first day of the event, braving dreary weather conditions to see a showcase of farming and rural life.
Machinery and farming equipment is on display, as well as political tents with promises of various policies. Posters of local, national and European politicians line the roads leading to the event.
Ms Houlihan said the current record for welly throwing is set at 792 and was done by a group of young farmers at an agriculture show in England.
"We had to purchase the wellies, but we're after getting sponsorship now in the meanwhile – that's going to cover the cost," she said.
"They are the most stylish wellies you will ever see and if they're not the trend at Electric Picnic next year, I'd be very disappointed."
"They look well in the air," she said, adding that the crocodile and hippo wellies "look lovely".
Macra volunteers are going to clean the boots and pair them up before donating them to schools and Ukrainian families.
By Gráinne Ní Aodha, PA
Keep up to date with all the latest news on our website Beat102103.com.