If something sounds too good to be true, it probably is.
Beat 102103 are warning listeners of 'sugar daddy' scams, as a number of female Beat presenters have been targeted.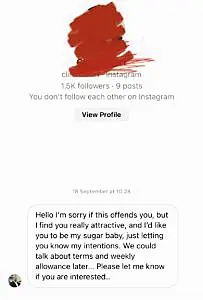 A 'sugar daddy' is typically an older male who provides a younger man or woman with financial assistance and gifts in exchange for sexual and/or romantic favours. According to Image, as of 2019, over 99,000 Irish women were registered as sugar babies on the former 'sugaring' website Seeking Arrangement. As the cost of living increases in Ireland, becoming a 'sugar baby' has grown in appeal to many, allowing online scammers to exploit a niche in the market.
In the last year alone, British bank NatWest identified more than 40 female students who fell victim to sugar daddy scammers in the UK. It is thought the actual number of victims may be much higher, as many are too traumatised or embarrassed to report their experience.
There are many ways the scammer can solicit financial details or personal information. Posing as the rich benefactor, they will often build a rapport with the person online and take the conversation off social media to avoid being reported. The scammer might offer a bank deposit but then request a transaction back to 'validate' the account, disappearing once they receive it. Other victims have been offered to have their debts paid off, with a credit card set up in their name. The scammer will then use the card to run up their own debts, leaving the victim in the red.
Beat Breakfast Presenter Shonagh Lyons received numerous emails from accounts posing as Sugar Daddies.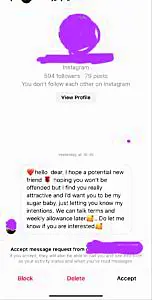 "At first I thought it was a joke," says Shonagh. I was laughing at these messages. I realised then it was more than that; it would be so easy to fall for. Especially if you're a young person struggling with the cost of living"
AIB Bank reminds users to NEVER share personal information or financial information with anyone they do not know and trust. Beware of any person who attempts to take a conversation off a dating app or social media account."If you make payments that turn out to be fraudulent, it is highly unlikely AIB will be able to retrieve your money."