There's been an earthquake in Donegal.
The Irish National Seismic Network has confirmed a 2.5 magnitude quake was felt near Glenveagh National Park yesterday morning (Saturday).
The INSN says it's received reports that the event was felt throughout the Donegal area, and was recorded by seismic stations across the country.
Seismic stations as far as Tipperary and Wexford also recorded the event.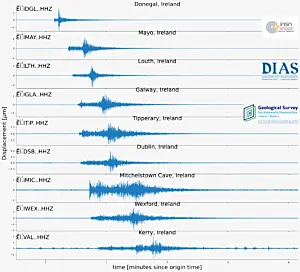 INSN detects and locates earthquakes in and near Ireland, but it also detects large earthquakes that happen anywhere around the world.
It's asking people who felt yesterday's quake to make a report on its website.
The blue markers on the map below show from where DIAS received felt event reports (last updated 6th May, 10 am).
Keep up to date with all the latest news on our website Beat102103.com.