By Gordon Deegan
Shareholder funds at the media firm owned by Ireland's most celebrated broadcaster, Gay Byrne, topped the €600,000 mark in 2016.
Filings lodged by Byrne's Gabbro Ltd with the Companies Office show that the company's shareholder funds - largely made up of accumulated profits generated over the years - increased to €602,634 at the end of 2016.
The company's current assets - largely made up of cash - increased from €496,105 to €576,1763.
Byrne celebrated his 84th birthday on Sunday and presented the world's longest running chat-show, the Late Late Show for 37 years before stepping down in 1999 at the end age of 65.
However, the broadcaster's strong work ethic ensured that he has continued to work long after vacating the Late Late slot with his successful Meaning of Life TV interview series and broadcasting on Lyric FM.
The filings for Gabbro Ltd, signed off by Gay and his wife, Kathleen, show that the company enjoyed a profit of €10,988 in 2016 and this followed a profit of €25,789 in 2015.
The company also benefited in 2016 from the transfer of realised profit of €11,213.
The increases in profit in 2016 and 2015 were more modest than the profit increases of €52,223 in 2014 and €87,571 in 2013.
In an interview earlier this year, Byrne spoke with RTE broadcaster, Ray D'Arcy and said that he was "totally wrong" not to take a year off "to nurse myself" rather than continue to try to work and fit other things into his schedule while also enduring treatment.
Gay was speaking about his 2016 diagnosis for prostate cancer and in the course of his treatment he has undergone eight rounds of chemotherapy, the final two of which were particularly 'gruelling' and overwhelming.
Regarding his career, he revealed that he had regrets that he didn't allow himself to take more time off, to be around his family.
He said: "Generally speaking I regret now the amount of time I gave to this place. It was an awful lot of time and I should have taken time to do other things and I had the opportunity to do other things but I was dedicated to the place."
However, he said that he had wanted to be a broadcaster from the age of 14 and he "lived my dream".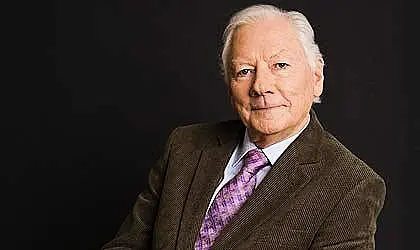 The solid financial performance of the firm in 2016 and 2015 shows that Byrne has moved on from the financial troubles he went through as a result of the recent economic crisis when his pension was wiped out.
In a press interview after the shock to his finances, Byrne said: "I never had a pension in RTE so we invested in what we believed were blue chip stocks, AIB, Bank of Ireland, Anglo - and all of that has been wiped out."
In the same interview, Byrne admitted that property investments he had made were "a millstone around our neck".
Byrne's loss on his shares and investments was the second jolt to his personal finances – in 1987, the Dubliner had to rebuild his finances after learning that his life's savings entrusted to his friend, and accountant, the late Russell Murphy had disappeared and his losses from the episode are estimated to have been over €200,000.