Ronan McCarthy has made a clever move in advance of his second season in charge of Cork, writes Peter McNamara.
In the midst of Cork's camogie success as well as all of the goings-on in the Cork club championships, the addition of Eddie Kirwan to McCarthy's managerial ticket went under the radar.
Yet, it is a hugely significant step in the right direction by McCarthy and Cork because Kirwan's as shrewd a customer as it gets.
Tactically, the Rebels have been found wanting too many times in these past few years.
However, McCarthy's nous, combined with that of Kirwan's game-intelligence, should alleviate some of the tactical fragility all-too-prevalent up until now.
Kirwan's record as Nemo Rangers manager, for instance, was superb. He delivered trophies, the only real currency that counts in Trabeg at the highest level.
As people are well aware at this point, failing to reach a county semi-final, at the very least, any year is considered a failure down Nemo way. And so it should at the level in question.
Kirwan, though, came up trumps during a silverware-laden stint as Nemo supremo.
However, what always impressed most about Kirwan was his capacity to tweak his managerial thought-processes to suit each individual opponent Nemo were due to face, especially when it mattered in the championship.
His analysis of each game was always meticulous.
Kirwan, prior to donning the managerial bib himself, would, of course, be found in the stands assessing Nemo's games and then relaying the information to the sideline.
You could envisage Kirwan adopting a similar viewpoint for Cork's matches next term.
Cork require somebody of Kirwan's standard overseeing their games from a heightened vantage point, one in which he can then pass valuable nuggets of information on to McCarthy and co.
Of course, McCarthy might well have other ideas as to what he wants from Kirwan in terms of contributions.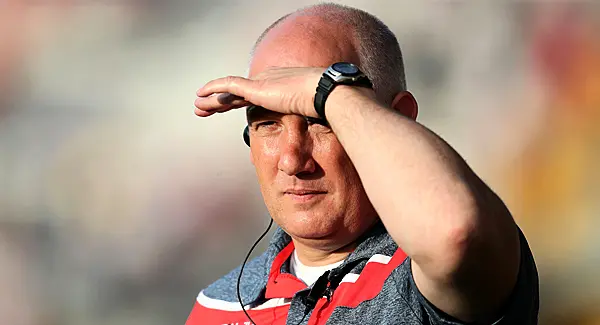 Nevertheless, even to have the option of Kirwan perched in the stands will represent a massive plus for the Leesiders in 2019.
Granted, Kirwan's presence alone is not going to ensure Cork are competitive again next year. Yet, it is definitely a piece of the jigsaw that was lacking, another person that can bring a different slant to the tactical acumen at the table.
Or, at worst, supplement the tactical intelligence already in place within the current managerial set-up.
Additionally, Kirwan is a players' individual in that he has exceptional man-management skills. And, as we all appreciate, you can never have enough people with excellent man-management qualities in a backroom team such as this.
Do not be codded, however, Kirwan does not suffer fools.
If, as Donncha O'Connor put it recently, there are those within the squad not driving on as they should be for senior inter-county players, Kirwan would be quick to discuss the issue with McCarthy and the rest of the management team in order to address the situation without hesitation.
And that is extremely important because, if little else happens in 2019 it is that the entire group get the very best out of each other by singing off the same hymn-sheet.
Obviously, no current player is going to admit it if they thought one or more of the panel were not putting in as great a shift as they should have been doing.
However, for somebody as straight as O'Connor to openly suggest that was the case it is an insight that has to be taken seriously.
And his sentiments would have surely struck a chord with the management and players he left behind following the embarrassing performances against Kerry and Tyrone.
Certainly, there was no shortage on the part of the management in terms of putting in the hard yards.
However, O'Connor's comments will have been heeded by McCarthy and his selection team.
Next year, with the inclusion of Kirwan, Cork have a brilliant managerial set-up, a seemingly well-balanced one.
That, if nothing else, is a very good start. And yes, we know, that, ultimately, it is players that determine how successful a managerial team is, but having those people in charge of the squad ensures the players have no excuses if they underwhelm in the short- or medium-term future.
Nobody will expect Cork to win a provincial title next season but capturing the league trophy in the second-tier has to be the primary objective.
In fact, promotion from Division Two of the NFL needs to be Cork's priority.
As everybody will have noticed, the top four teams in Division One of the league structure were the same four All-Ireland SFC semi-finalists.
Therefore, Cork have to get back into that top-tier and get used to competing against the classiest outfits in the country.
Before that, it would be hoped, that when McCarthy is assembling his panel, that the Cork management try to focus on players competing at the business end of the Cork SFC.
Give those players impressing and showing form at these forthcoming latter stages of that competition the opportunity to prove their worth.
And not just over two or three months, but over a longer period to see if they can adapt to that level and progress from there.
If some players are only given two or three months that is simply not enough time for them to adjust and thrive, especially as this rebuilding process should be conducted over the next two or three campaigns and not just a quick-fix 2019, because, frankly, there is no quick-fix.
However, and despite the evolutionary process of the side itself, Cork are still capable of winning promotion during that period as the standard in the second-tier is not exactly outstanding.
With Kirwan now involved, Cork can make mini-steps forward.