Thousands of childcare providers and supporters have protested outside the Dáil to demand increased funding for the sector.
Parents and children were also among the large crowd that gathered at Leinster House on Tuesday afternoon for the noisy demonstration.
Organised by the Federation of Early Childhood Providers, the rally heard calls for enhanced investment in creches and reforms to the state's core funding model.
The federation has said hundreds of creche owners have closed for three days this week as part of the protest action. The Department of Children said it had only received notification of closure from 64 creches.
The allocation of the Government's multimillion-euro core funding package for childcare providers came with an agreement by owners to freeze fees.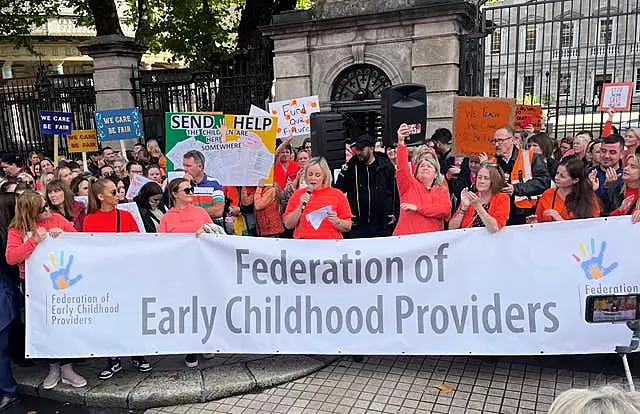 Creche owners insist that arrangement is no longer fit for purpose, as it does not account for surging inflation rates that have been witnessed in recent times.
Sonya Duggan, a childcare provider from Co Laois, said many creche owners were being pushed to the brink, with savings and investments "vanishing into thin air".
"The Government must listen to our cries for proper funding, fair compensation and support for a vital sector," she told the crowd.
"It's time to appreciate, validate and fund the services we have properly to ensure the viability into the future."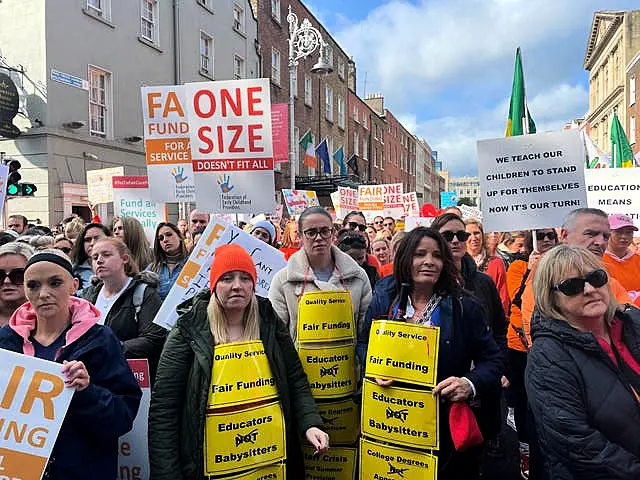 While the rally continued outside Leinster House, inside in the Dáil Taoiseach Leo Varadkar said he did not believe the protest was "warranted".
Sinn Féin leader Mary Lou McDonald raised the demonstration during Leaders' Questions, noting that "childcare remains just too expensive".
She said thousands of parents would face significant disruption as a result of the three-day strike.
"The reality is that the provision of childcare service is in a crisis and that has been the case for some time," she said.
She said the Government must increase investment, bring down fees for parents and guarantee fair pay for childcare professionals.
We have seen people out in media calling for a public not for profit Childcare. This would cost roughly around €2.5 billion a year. Government funding is €600 million a year at the moment. Focus and fund what is already there. High quality services @FederationEarly

— Elaine Dunne Federation Early Childhood Providers (@MurphyDunne) September 20, 2023
In response, Mr Varadkar said Government "acknowledge absolutely" that there are challenges and pressures in the sector.
"The administrative burden has increased and that's putting a lot of pressure on the time that providers have and professionals have to provide their service," he said.
"And of course, funding for any service is always a challenge and we acknowledge those things too. But of course, they can be resolved."
Mr Varadkar said the best way to resolve issues is through the Early Years Forum and criticised the protest.
"We do not believe that this action by one organisation is warranted, and it is causing great inconvenience for parents, particularly parents who've had to take time off work or even take annual leave to look after their children," he said.
Ms McDonald also asked the Taoiseach if he would follow through on a commitment to halve childcare costs across two budgets, adding that the Government should go further than that target.
An initial 25 per cent cut was introduced in last year's budget.
Mr Varadkar said: "It remains the Government's objective to reduce the cost of child are by 50 per cent. We set that out some time ago, and we're halfway there already.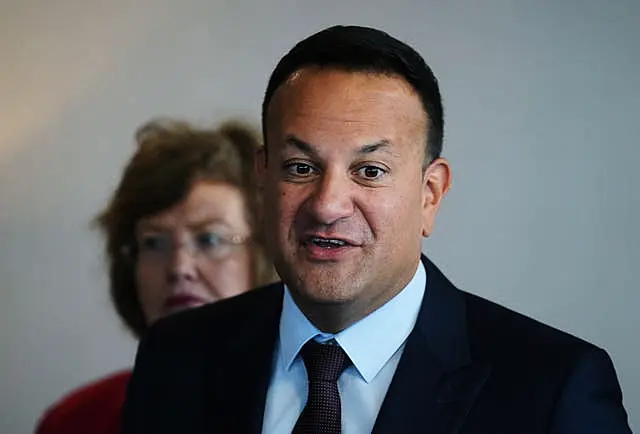 "We also need to invest in capacity because we need to make sure there are more places available too, and we also need to invest in policy and that includes better pay for staff which of course has to be funded, at least partly from the public purse.
"Exactly how much we can dedicate to each of those three objectives has to be negotiated between now and Budget Day."
Children's Minister Roderic O'Gorman declined to commit to the further 25 per cent cut in childcare fees when asked about the issue on Tuesday.
He insisted more money was being diverted the childcare sector, with core funding increasing from 207 million euro to 287 million euro in two years.
He said he understood the frustration of providers, but he insisted the fee freeze was a key element of the core funding arrangement.
"The fee freeze is absolutely central to core funding," he said.
"We are putting in a huge additional investment directly into services, 287 million euro this year.
"And in exchange for that we seek a fee freeze so that parents can have certainty in terms of the fees they're paying."
By By David Young and Cillian Sherlock, PA
Keep up to date with all the latest news on our website Beat102103.com.