The newly named Very Pink Run has been confirmed to take place across three dates this coming September and October.
Now a global event, with a brand-new title sponsor - Very (Ireland's leading online retailer) - has seen 78,000 participants from over 40 countries take part to date, raising over €6m for groundbreaking breast cancer research, and returns this year in both a physical and a 'virtual' sense.
Participants can take part in one of three live large-scale physical events taking place in Dublin at Leopardstown Race Course on 30th September, Kilkenny Castle Park on Sunday 1st October or at the brand-new location of MTU in Cork on 8th October – added due to sheer demand for a live event, from the breast cancer community in Munster. Or alternatively, people can also take part in a 'virtual' sense in their own local communities any time between 30th September and 8th October.
A large group of very well-known faces have already joined this year's 'Very Pink Tribe' including none other than Daniel O'Donnell, whose wife Majella is in recovery from breast cancer, Virgin Media Presenter Ciara Doherty, RTE's Sinead Kennedy and Sarah Jane O'Regan, Bobby Kerr, and fellow Newstalk Presenter Kieran Cuddihy, Virgin Media presenters Kamal Ibrahim, and Zeinab Elguzouli, along with Fair City Actor, Ryan Andrews. Also joining the ranks and encouraging participation are rugby stars Josh van der Flier, Robbie Henshaw, Virgin Media Presenter Elaine Crowley and Broadcaster and Influencer Lorraine Keane - all of whom are long-standing Breast Cancer Ireland Ambassadors - alongside former Irish international rugby player Shane Byrne, FM104's Crossy (Thomas Crosse) and Social Influencer & TV personality James Patrice with his mum Veronica Butler (Fron) amongst others. In the lead-up to, and during the three live events, they will join the many thousands of families who have been impacted by the disease in this country as they pound the pavements and parks of Ireland, and overseas, in support of the cause.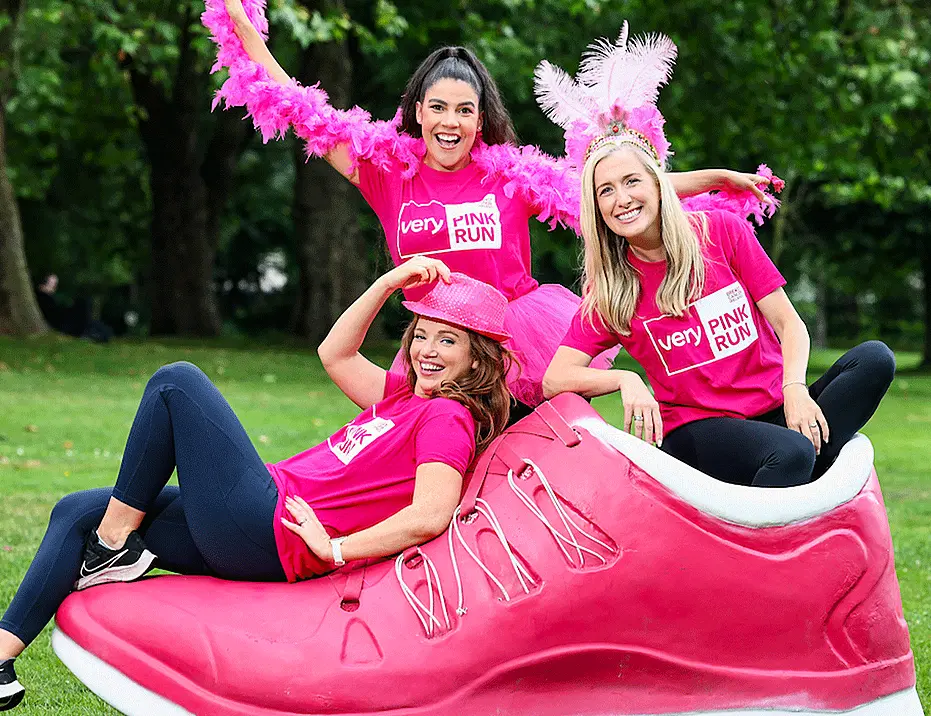 The Breast Cancer Ireland Very Pink Run events are entirely inclusive, aimed at casual strollers, keen walkers, joggers and seasoned runners alike and are open to all age groups, families, friends and solo participants, who have the option of running, jogging, walking or even scooting over either a 10k or a 5k course. They offer a fun, family festival-style day out with music, games and children's entertainment.
Registrations for the event are open on www.verypinkrun.ie and Aisling Hurley, CEO of Breast Cancer Ireland speaking at the launch today, said "We are thrilled to be in a position this year to announce Very as our brand new title sponsor for this, our largest annual fundraising event, and look forward to working with the new sponsorship team for the next three years of the partnership. We are incredibly appreciative of their support (and that of our Silver Tier sponsors such as Glanbia, Goodbody and UMPC) as this not only helps us offset our event costs and ensure that all funds raised go directly into research and awareness programmes, but also means that we can work closely with our sponsor's extensive employee and stakeholder base in Ireland to help further grow the reach and the impact of this hugely successful event."
Aisling continued "The funds raised will be channelled directly into three specific areas of need this year…firstly continued investment into research regarding metastatic disease progression, an ever-challenging area in need of support and secondly, investment in driving progression and speed of scientific discovery from research settings into clinical trials so as to develop newer more effective targeted therapies into the future.
We're thrilled to announce the Very Pink Run!
The event, newly sponsored by @very_ireland, as part of a three year partnership deal with @BreastCancerIre. Together, let's do this for the 1 in 9 women diagnosed every 29 seconds. Register now at https://t.co/pnYVrNHwgr pic.twitter.com/kfAI9LB2Hj

— BreastCancerIreland (@BreastCancerIre) August 29, 2023
"Examples of these are the ground breaking Shamrock Trial and a new Ireland & UK based collaborative Her2 Surveillance Trial focusing on the spread of secondary breast cancer to the brain, which will enable researchers to investigate the screening of asymptomatic patients for brain metastases in the hope that early detection will improve survival rates. Lastly, the funds raised through this year's event allow us to support ongoing Breast Cancer Research Fellowships and Scholarships specifically focussed on the sub-type cancers that pose the greatest challenges and require continued investment – all of which help us to fulfil our ultimate goal of transforming breast cancer into a treatable illness that can be maintained long term"
Speaking at the launch of this year's event, Catherine O'Toole, Head of Marketing, for new sponsor Very said "We're very proud to announce an exciting partnership with Breast Cancer Ireland as the title sponsor of the newly named Very Pink Run! At Very, we've been on a mission to make a meaningful difference at the heart of Irish communities for over 50 years and with 1 in 9 women developing breast cancer during their lifetime, and 1 in 1000 men, we know that the important work Breast Cancer Ireland does will touch many of our customers, colleagues, and their families during their lifetime. By increasing awareness and raising vital funds for the life-saving research and breast health education provided by Breast Cancer Ireland, we're delighted to support this incredible cause and do our part to help us all live longer happier and healthier lives. Come and join us! Gather all your family, friends, and pets together to register for our first Very Pink Run and let's make this event bigger and better than ever."
Participation in the Very Pink Run event is easy – simply register to take part at www.verypinkrun.ie, gather your 'pink tribe' by encouraging your friends and family to do the same, then attend one (or all!) of the 3 live events* in Dublin, Kilkenny or Cork - or alternatively do your individual or group run, walk, scoot, wheel or cycle in your own community during the week of the national event (30th September-8th October 2023).
Keep up to date with all the latest news on our website Beat102103.com